When a computer is to be accessible to more than
one user it is beneficial to set up an account for
each individual. This helps to protect the users'
privacy and files. Adding Windows 7 users is an
easy process.
Certainly no-one except the administrator should
have access to the administrator's account or
password but this holds true for everyone else as
well, no matter what their permissions are.
Initially, only an administrator has the permissions to
make changes to the computer that can affect other
users. At the discretion of the administrator other
users can be given permissions to add programs
and make changes to how the computer operates.
To add additional users, go to the control panel and click on Add or remove user accounts.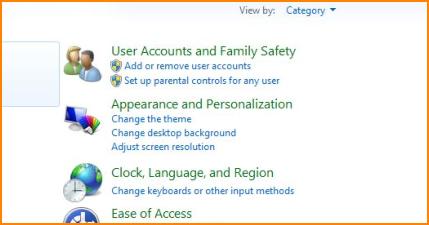 Click Image to Enlarge
Notice the blue and yellow shield by the side
of Add or remove user account. This means
that this operation can only be completed by
someone who has access to the
administrator account. If someone tries to
perform an operation for which their account
does not have permission, they will be
prompted for the administrator's password
credentials.
Adding Windows 7 users can only be
completed by someone with Administrator
credentials.
On this next screen click on Create a new account. There is no blue and yellow shield here because credentials
were verified at the previous operation.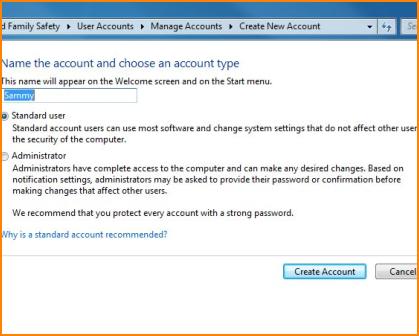 Enter a name for this new account and choose the type of account for this user. It is advisable to only have one active administrator
account. It will save conflict and having changes made to the system.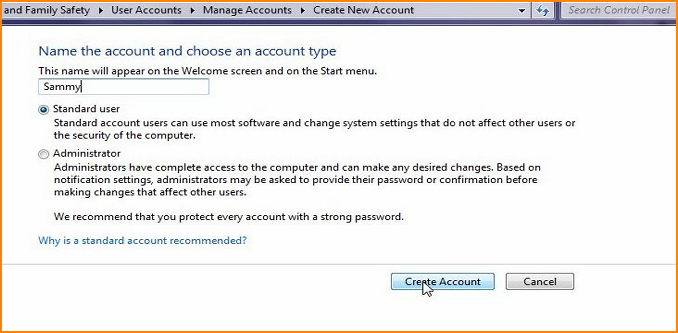 Click Image to Enlarge
Now that the account has been created it will randomly designate a picture to associate with the user. This can be
changed by returning to the Manage Accounts window.
When adding Windows 7 users no password is set for this account, you can return to the Manage account screen and
select the new account and select the Create a password option.

If you notice the breadcrumb type trail at the top of the window (as shown in the picture above) you can click on any step
to be returned to that window.
Note: When adding Windows 7 users it is advisable to also make a standard user account for the administrator. This can
prevent security issues from arising. Even with a standard account the administrator will still be able to make any changes
that he or she sees fit, as they will be prompted for their administrator password to make the change. There is no need to
go back and forth between the two accounts.

Adding Windows 7 Users by PC Apprentice 2009 - 2017
First we thought the PC was a calculator. Then we found out how to
turn numbers into letters with ASCII - and we thought it was a
typewriter. Then we discovered graphics, and we thought it was a
television. With the World Wide Web, we've realized it's a brochure.
- Douglas Adams