Gadgets were first introduced in Windows Vista and while how they are displayed has changed,
the Windows 7 gadgets are basically the same. The notepad gadget, however, has been dropped
in favor of a sticky note application. The only newcomer that ships with Windows is a gadget for
Media Center.
Windows 7 gadgets are small single purpose programs that bring information or some other kind
of service to your computer desktop. They provide functions such as like the clock gadget, the
Warcraft realm status gadget, the calendar gadget, the weather gadget and other Windows 7
gadgets that sit on your desktop for immediate reference. You can even find gadgets tailored to
your favorite websites such as Google and Facebook.
While in Vista they were anchored to the sidebar (you could drag them to the desktop), the
sidebar has been removed for Windows 7.
There are a couple of ways to get to this application. You can right-click on the desktop and choose Gadgets.
Or, open the Start Menu and type "gadget" in Start Menu Search.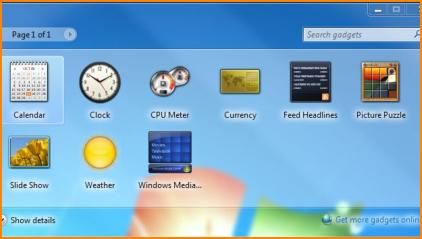 Windows 7 gadgets can be added to your
desktop by double-clicking them in the
Gadget Gallery window, or you can click and
drag them off of the window and onto the
desktop.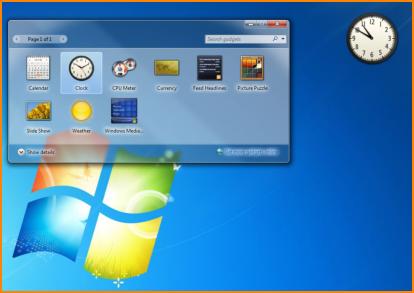 Once you have picked your gadget you can customize how
it works and looks. Right-click on the gadget of your choice
to see customizing options. These options include
changing the size and position on your desktop of a
particular gadget. Settings options vary from one to the
next dependant on the function that the gadget provides.
Some require being set up for use. For instance the
weather gadget requires you to choose your locale to
display local weather information.
Unlike Windows Vista you can position your Windows 7
gadget anywhere on the desktop that you choose.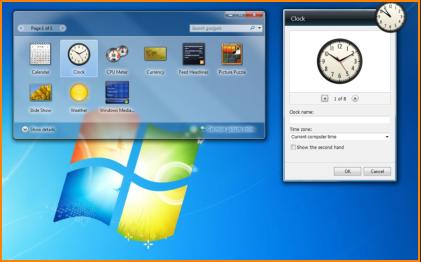 If you have several Windows open you can
show the desktop to reveal your gadgets by
using the Aero Peek option. You can find out
more about that here. This is a change from
Windows Vista in that when you clicked show
desktop the gadgets would be hidden as well.
Alternatively, you could bring gadgets to the
forefront by using the Windows Key + G
keyboard shortcut.
There are many sites that offer free downloadable gadgets catered to your particular area of interest. Whether you need Twitter updates (the
Twadget Gadget is great for this) or need to know the performance specifications of your computer, memory, etc. you can find them on the
internet. Simply download and run the new Windows 7 gadgets.

Windows 7 Gadgets by PC Apprentice 2009 - 2017
To err is human - and to blame it on a
computer is even more so.
-Robert Orben
Click Image to Enlarge
Click Image to Enlarge
Click Image to Enlarge