Okay, so you've gone out and upgraded from XP to Vista. The operating system you either love or
hate. Despite Microsoft's claims, you find yourself wishing that your computer was running

Windows
XP

again. Well you can! You can uninstall Vista and reinstall your previous operating system.
Many people claim that their previous version of the Windows operating system was more stable and
find that after installing Vista that the programs they use on a daily basis won't run under the new
version.
If you bought a computer with Vista preinstalled it is still possible to uninstall Vista from the hard
drive. You will need to provide an operating system disk to install a new operating system.
Make sure
that you go into BIOS and set the disk loading priority to search the CD/DVD drive first.
Here are the steps how to

uninstall Vista

and reload Windows XP onto your computer:
Before you start, make sure that you have the following:
* Copy of the XP Installation disk
* Boot disk - you can download and make a
bootable CD at Microsoft Downloads
* Make sure that you have backed up all
important files. You will not be able to find
that picture of Aunt Mildred at the beach if
you don't.
Please note!
The following are instructions for those that
upgraded their computer from XP to Vista
and would now like to uninstall

Vista

from
their computer.
1. Start up your computer with the Windows
XP installation disk in the CDROM drive.
2. The setup screen will appear. Type R to
repair an existing installation.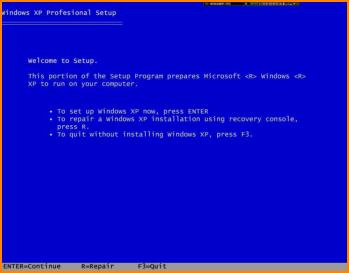 3. Now type the following: fixboot C:\ (It
should be noted that C is the drive which
has Vista loaded. If another drive is the one
with Vista, use the corresponding letter)
4. Type fixmbr C:\
5. Type EXIT
6. You can now close your Windows XP
setup. Once closed, restart your computer
with the bootable floppy or CD that was
mentioned before.
7. Once your boot disk is loaded, you will be at the
command prompt. Type the following: format C:\ (This
will erase your entire hard drive so make sure all
important data is backed up)
8. Insert your

Microsoft Windows

XP installation
CD into your CDROM and restart the computer. The
Windows XP install splash screen will come up and
guide you through the initial set up process.
9. Follow the prompts and install Windows XP as
usual. Once complete, you will have completed the
uninstall vista operation and you will have
successfully reinstalled Windows XP.

Uninstall Vista by PC Apprentice 2009 - 2017
Computers can figure out all kinds of
problems, except the things in the world that
just don't add up. - James Magary
Click Image to Enlarge