The latest version of Windows Messenger is the Windows Live messenger. There are the usual
functions that were available in earlier versions and a couple of new ones that people might find
useful.
You can still add pictures and backgrounds to make your messenger more personal and you can
still send and receive photo files from your contacts to save on your respective computers.
New functions include getting updates from your contacts. The what's new area gives you a
glimpse of any new blogs or photos that have been posted, new contacts they've added, etc. You
can also use Live Messenger to send an SMS text message to someone's mobile phone.
For whatever reason, you've decided that you don't want

Windows Messenger

running. Either
you want to temporarily disable it or you want to uninstall it completely from your system. Here are
the guides to show you how to remove

Microsoft Instant Messaging

service from your
computer.
To disable Windows Messenger:
1. Click the <Start> button
2. Click <Run>
3. Enter the command "services.msc"
4. Click the <OK> button
5. Find Messenger in the services list and double-
click on it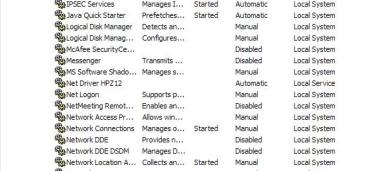 6. Change the Startup type to Disabled
7. Click the <Stop> button
8. Click the <OK> button
This will prevent

Windows

Messenger from starting up.
In most cases these are the only steps that you will have to take.
Maybe you've decided that you really want to totally

remove

Messenger from your computer.
To remove Windows Messenger from your system:
1. Click the Start button
2. Click Run
3. Enter the command
"RunDll32 advpack.dll,LaunchINFSection
%windir%\INF\msmsgs.inf,BLC.Remove"
4. Click the OK button
5. Click Yes to restart your computer.
If at a later date you decide that you really could use
Windows

Messenger

, don't worry. You can easily
add it back to your programs.
To install Windows Messenger:
1. Click Start
2. Click Control Panel
3. Click add/remove programs
4. On the left hand side click the add/remove Windows components.
5. Scroll the list down to Windows Messenger and click the checkbox.
6. Click ok
One thing to remember about most IM programs is that they are far more vulnerable to attacks than regular emails. Emails
are usually scanned before getting to your computer and then you probably have some sort of antivirus program on your
computer as well. With IM's there is no scan before you open that picture or audio file that you have just received from a
"friend".
Accepting files over Windows Messenger is risky at best.

Windows Messenger by PC Apprentice 2009 - 2017
Microsoft has had clear competitors in the past.
It's a good thing we have museums to document
that
- Bill Gates